Curriculum
Intent
The connected curriculum, the school's curriculum beyond English and mathematics, is suitably broad and balanced. There is good coverage of a wide range of subjects that interest and excite pupils and are studied in detail. Ofsted, Feb 2018
We have constructed a curriculum that is ambitious and designed to provide all pupils with the knowledge and cultural capital they need to succeed in life. Our curriculum is coherently planned and sequenced towards cumulatively sufficient knowledge and skills for the future.
We follow the statutory national curriculum which sets out in programmes of study, on the basis of key stages, subject content for those subjects that should be taught to all pupils. Our pupils study a full and broad curriculum, enhanced by a range of rich extra curricular experiences.
We hold the view that from the moment a child enters our academy, we have a responsibility to nurture and develop her/him through both academic rigour and the building of character so that each of our BCA Superheroes can be successful in their future life. We aim to ensure that pupils develop a range of attitudes and characteristics that will define them as positive individuals who are able to contribute constructively to society.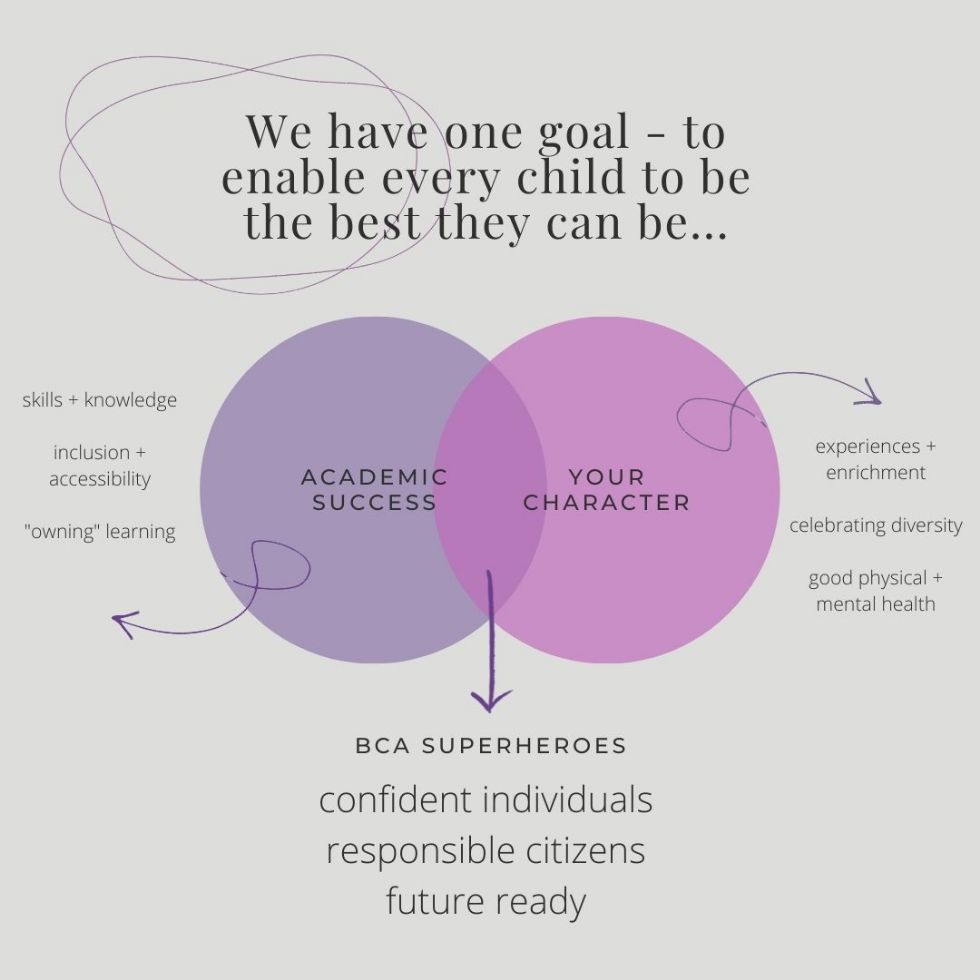 The curriculum, including additional activities, provides pupils with a broad range of learning experiences that enable them to enjoy school. This prepares them well for life in 21st century Britain and for their next stage in education. Ofsted, Feb 2018
Use of Educational Technology
We are a Microsoft Showcase School, recognised for exemplifying some of the best teaching and learning utilising technology in the UK; this approach is planned not only to impact on pupil engagement (pupils "own their learning" ) but also to ensure our pupils are best prepared for future learning and employment - we are preparing our children for a world that does not yet exist - we see the importance of technology in there because actually that is the future of work. When using technology, we see a heightened level of pupil engagement and an opportunity for our teachers to personalise learning so that it better meets the needs of our diverse learners.
The academy's teaching and learning policy is embedded securely across the academy and has been effective in establishing a consistent approach to teachers' expectations and teaching strategies.
| | Key Stage 1 | Key Stage 2 |
| --- | --- | --- |
| Core subjects | | |
| English | * | * |
| Mathematics | * | * |
| Science | * | * |
| Foundation subjects | | |
| Art & design | * | * |
| Computing | * | * |
| Design and technology | * | * |
| Languages | n/a | * |
| Geography | * | * |
| History | * | * |
| Music | * | * |
| Physical Education | * | * |
| PSHE | * | * |
| Religious Education | * | * |