Art and design
Intent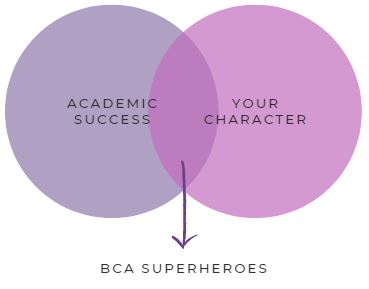 Our Art and design curriculum aims to inspire our pupils and develop their confidence to experiment and make their own works of art. It is designed to give pupils every opportunity to develop their ability, nurture their talents and interests, express their ideas and thoughts about the world as well as learning about art and artists across cultures and through history.
Implementation
Our art and design curriculum has five strands that run throughout. These are:

Sketchbooks are used throughout the process of creating our art, including for practising techniques as well as to develop and evaluate ideas.
Our units of lessons are sequential, allowing pupils to build their skills and knowledge, applying them to a range of outcomes. The formal elements, a key part of the national curriculum, are also woven throughout our units. We aim to revisit key skills again and again with increasing complexity. This allows our pupils to revise and build on their prior learning. Our art and design curriculum is organised by year group by four core areas.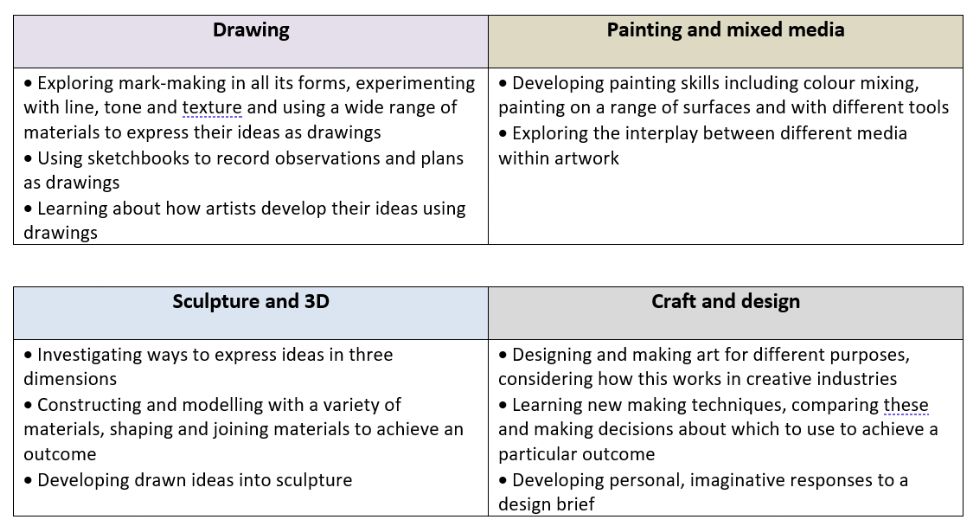 Our long term plan and progression and sequencing documents show the skills that are taught within each year group and how these skills develop to ensure that attainment targets are met by the end of each key stage. It also shows how knowledge builds in the formal elements of art.
Our lessons aim to encourage autonomy and place emphasis on children developing their creativity through experimentation and individual responses.
Our art lessons are always practical in nature and encourage experimental and exploratory learning with pupils using sketchbooks to document their ideas. We ensure that lessons can be accessed and enjoyed by all pupils and opportunities to stretch pupils learning are planned for.
We incorporate Kapow knowledge organisers, where appropriate, for each unit to support our pupil's retention of key knowledge and techniques learnt, to encourage a recall of skills and processes, key facts and vocabulary.
Impact
Our art and design curriculum is designed in such a way that pupils are involved in the evaluation, dialogue and decision-making about the quality of their outcomes and the improvements they need to make. By taking part in regular discussions and decision-making processes, children will not only know facts and key information about art, but they will be able to talk confidently about their own learning journey.
The impact of our art and design curriculum is constantly monitored through both formative and summative assessment opportunities within lessons.
The impact of our Art and design curriculum is that children will:
Produce creative work, exploring and recording their ideas and experiences
Be proficient in drawing, painting, sculpture and other art, craft and design techniques
Evaluate and analyse creative works using subject specific language know about great artists and the historical and cultural development of their art
Meet the end of key stage expectations outlined in the national curriculum for art and design
National Curriculum - Art and design key stages 1 to 2 (publishing.service.gov.uk)