Multi Skills event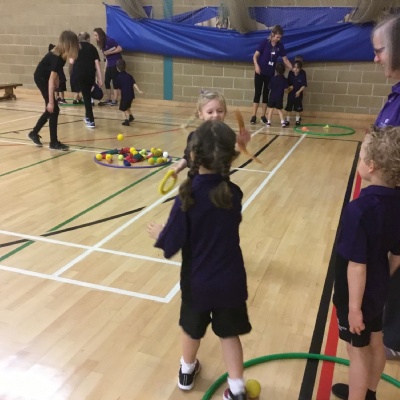 This morning Penguin Class have been to their first multi skills event which was held at Stanground Academy.
After the excitement of the very brief coach journey, the children were quick to spot the huge GAT logo on the side of the sports hall wall "look! It's the same as us!" said Donya.
Once inside the sports hall the children listened very well to the instructions, split into two groups then went to their first Loren had the chance to work at six stations over the morning: throwing a shuttlecock at a hoop; keeping the balloon off the floor by hitting it to each other; a game of duck, duck, goose; throwing beanbags at a ball which was balanced on top of a marker; the treasure game; human skittles. The children also enjoyed a well earned break at the rest station. Time flew by and before we knew it, it was time to head back to school. The children's behaviour was exemplary and they were a credit to BCA. They all agreed that it was such a fun morning and would love to have stayed longer. The children can't wait until they can do it all again next year in the Year 1 Multi skills event!
Well done on your amazing achievement Little Penguins!
Click here to see our photo gallery.