Happy Diwali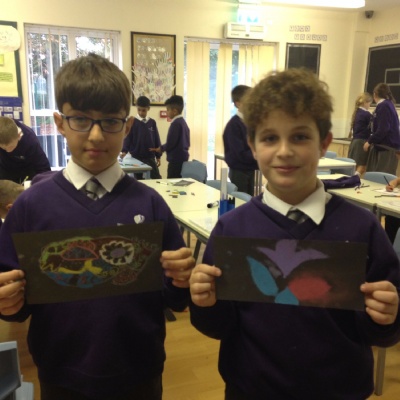 Diwali is now underway, with the five-day celebration being enjoyed by millions around the world.
Diwali is the most celebrated festival by Hindus, however it is also observed by Sikhs and Jains around the world, often by holding street parties and setting off fireworks.The festival of light sees Hindu homes decorated with candles and lights and people sharing gifts.
Each year, the date of Diwali changes, in 2017 it fell on October the 19th. The festival is calculated according to the position of the moon and the Hindu lunar calendar and is usually in October or November.
After learning about Diwali traditions and the story of Rama and Sita, as a class we answered questions on the festival to test our knowledge and understanding. Fatumata knew lots about this and contributed to discussion because her neighbours are Hindu. When finished, we spent some time looking at the beautiful Rangoli patterns. They are used by Hindus at Diwali to guide Goddess Lakshmi into their homes. These naturally-themed patterns are created on the floor near the front door and are made from commonly found materials, such as uncooked rice grains, sand and chalk. Unfortunately, we weren't able to create these beautiful designs on the floor or walls! We did however create our very own Rangoli patters using a range of mediums: chalk, pencils, pens, crayons, pastels and gel pens to add some sparkle! Everyone worked really hard in order to create spectacular patterns.
Please take a look at our artwork in our Diwali photo album.
Happy Diwali!