3..2..1..BLAST OFF!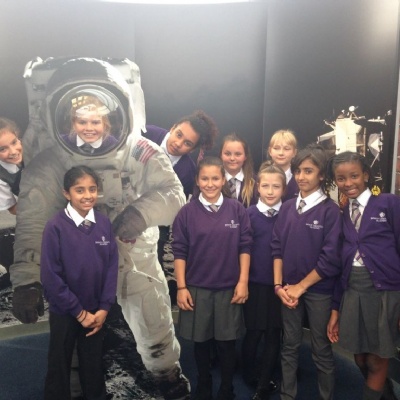 To kickstart our new theme topic, Year 6 travelled to Leicester to explore the national Space Centre.
To kickstart our new theme, Year 6 travelled to Leicester to explore the national Space Centre on Tuesday the 12th of September. Despite an early start, excitement filled the coach and upon our arrival to the space centre we were greeted by astronauts! First up was our Space Cadet Mission. The mission controller split us into two groups, astronauts and mission control. Within our teams we were all assigned specific jobs. Our mission was then unveiled...
Mission Objective: To build, and then launch a probe to rendezvous with an unknown object that may be a threat to the Earth!
Scenario: In the not too distant future, a team of scientists and engineers are on a daring mission to take an up-close look at a comet as it streaks its way across the solar system. Their goal is to plot a successful course to rendezvous with the comet and launch a probe to collect scientific data on the object.
We first had to construct the space probe and then plot the correct intercept course. Althoough it seemed to be a routine exploration we encountered challenges and emerginces! Each obstacle that stood in the way of a successful mission required us to work together as a team and problem solve the solution.
Our mission was successful! The crew working in Mission Control maintained the safety of their team in space. This meant we we gave concise instructions, documented the research and also analysed the data sent from the crew in space.
Well done Year 6! The rest of the day was spent exploring the centre, visiting the planaterium and visiting the rocket tower! We had a fantastic day learning all about Space and what's out there!
Make sure you look at the photo album of our visit!