Paint 3D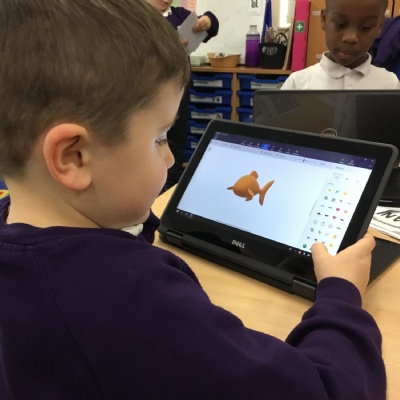 Little Penguins have been exploring Paint on the computer...in all its 3D glory!
Today the children watched Mrs Baldock give a demonstration on the interactive board showing how to add a 3D cat/fish/dog to a canvas in Microsoft Paint 3D and then use different stickers to add eyes and a mouth. They also learnt how to use different brushes to add coloured effects to their model. The real challenge though was to use the arrows to turn their model in different directions and orientations.
The children were then eager to use the laptops to create their own model. It was fantastic to see the children very quickly using their new learning to create their own models - it was as if they'd done it before! They were even confident enough to help each other rather than asking an adult for support.
The highlight of the afternoon came when we used Gabrielius' cat and turned on the mixed reality feature. With his laptop connected to the large screen the whole class were then able to see his cat standing within the classroom and even sitting on some children's heads!
What an amazing first lesson using Paint 3D. We can't wait to use it again and look forward to exploring more features within the program and creating a range of wonderful models!
Take a look at the video showing some of our super work!