Having a blast in Science Week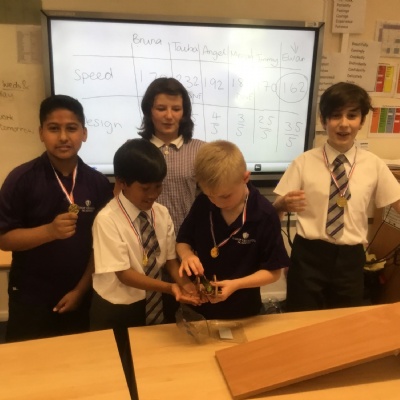 We've had a whole week of science fun at Bishop Creighton!
We started every morning with a science question to make us think: why is there water on the side of a glass; does a boat float better in deep or shallow water; does a snowman melt if it wears a coat; what happens when a kettle boils. On Monday, we learnt about fossils. A lot of fossils are found in the Great Lakes in the USA and we learnt about how the lakes were formed and why there are so many fossils there. We finished the day by making our own fossils out of dough. See how realistic they look!
On Tuesday, we worked in groups to create a vehicle out of recycled materials. Some groups used bottles, others used cardboard and one group used a cucumber! Whatever materials we used, we had to make sure the wheels could turn smoothly and that the vehicle was stable and sturdy. In the afternoon, we perfected the designs and improved the visual design of our cars. The race was very exciting to see whose car raced down the ramp the quickest. The "cumberghini" won! The winners wore their medals proudly.
Thursday afternoon was another highlight from the week. We had science experiments in each class and had the chance to move around and try all of the experiments. There was one about seeing if eggs float in salt water compared to tap water and one about a singing paper clip. We were little scientists for the afternoon, making predictions and writing up our findings.
Check out more pictures from science week in our gallery.