Changing state...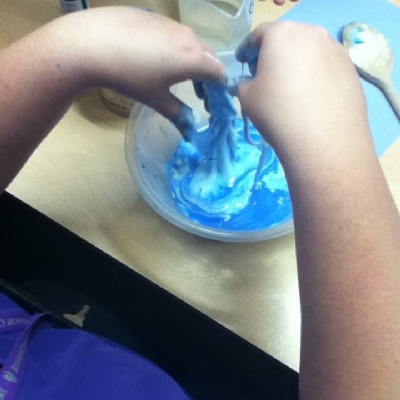 Year 5RC have been conducting experiments this half term, as part of our theme ' Mysterious materials' we investigated solids and liquids. We predicted what might happen to the cornflour before we mixed it with water and food colouring.
Cornflour slime is very popular as it's incredibly easy to make, doesn't use any nasty chemicals and has amazing properties unlike anything you may have experienced before. It is sure to delight young and old alike!
This was a great activity for us to focus on fluids and solids , because unlike most fluids (which are something that can flow), when applying pressure, this mixture acts like a solid.
We mixed together Cornflour, water and food colouring. We put most of the cornflour in the bowl, added water to the cornflour until it started to behaving strangely - we wanted at least twice as much cornflour as water, so we didn't add it too fast!
Then we tried moving our hand through the liquid slowly, then fast and had a play with it.
We ended up with a really strange mixture, with when we moved slowly it will flowed slowly, but we tried and changed its shape quickly it went hard. If you get the consitancy right, you can even roll a ball out of it that will bounce, then when it stops, flow as a liquid again!
Cornflour is made up of lots of tiny starch particles, these are very attracted to water so the water gets in amongst them very quickly.
Have a go at home too!