Striking and Fielding Event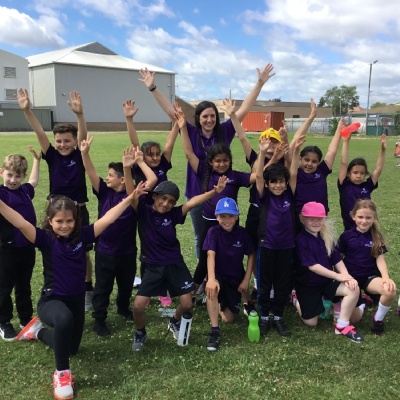 Year 3 had a great morning of sports!
Year 3 were super eager and enthusiastic to be going to Stanground Academy yesterday to take part in a sporting festival. We were excited to find out what we would be doing relating to fielding and striking.
We split the class into two teams ready to compete against the other three schools that attended the event.
We watched a demonstration of a simple game of rounders where the aim was to score as many points as we could by running round the cones. Year 3 were a little nervous as they had never played rounders before but they were eager to get involved and have a go.
Team 1 went off with Mrs Inquieti and Miss Brown to play their three games, whilst team 2 went off with Mrs Murdoch to play their three games. Both teams tried extremely hard and all the teachers were impressed with their behaviour and attitude towards the other teams. Each team had a chance to bat and run round the cones to score points. The children enjoyed cheering for each other and congratulating each other when points were scored. It was lovely to see year 3 working together so well! Once we had batted, we switched over to fielding where the children worked together to get the ball back to the circle to stop the other team from scoring. We improved as the games went on and Ismaeel even caught one of the other team members out.
At the end of the three games, we sat down to listen to the results. Team 1 came third in their games overall, which was a tremendous achievement. Team 2 did a great job and came first in their games overall beating the three other schools.
Both teams did an amazing job and their behaviour was impeccable. I am so proud of how well they worked together. Well done Year 3!
Take a look at our photo album to see photos of us at the event.