Brilliant Book Week!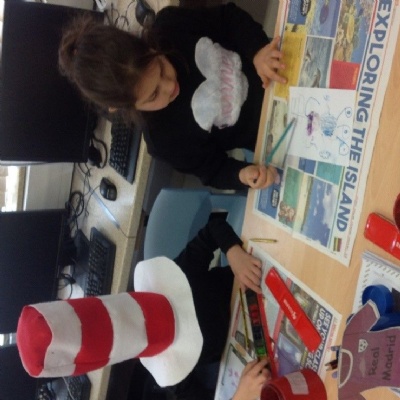 It has been an exciting week in Year 3 this week!
The snow did not put us off enjoying book week!
The wolves spent the week looking at the book 'There's a Wocket in my Pocket' by Dr.Seuss, who is our author this half term.
The children loved hearing the story and doing lots of work around it!
"I loved the rhyming words and the book was funny," said Flori.
We spent the week looking at rhyming words and then on book day used our rhyming words to create our own version of 'There's a Wocket in my Pocket.' The children did a fantastic job with their stories and made up some fantastic creatures!
In the afternoon on World Book Day the children got to create their own creature to go in their pocket. They designed and painted their creature to put in their pocket. We had a lot of imaginative creatures with some even looking like aliens! The children placed their creatures in pockets and wrote sentences describing them. Great job Year 3 they looked fantastic!
We were also lucky to enjoy a workshop by Kaboodle on Wednesday. The children had the chance to think about animals in stories and act out actions by the animals. They children became crocodiles and cats and moved in many different ways. They then had to act out different scenes and the children had to try and create a sentence for it.
"The boy jumped quickly," said Gemma.
"The walked backwards carefully in the classroom," said Matty.
The children all joined in and loved doing some drama.
We had a fantastic book week and the children made such an effort with their costumes on Book Day. Thank you to all those who dressed up. We had a range of different animals in our classroom including rabbits, a cheshire cat, crocodiles, foxes and many more.
Take a look at our gallery to see photos of the exciting activities we did!