BCA Christmas Choir!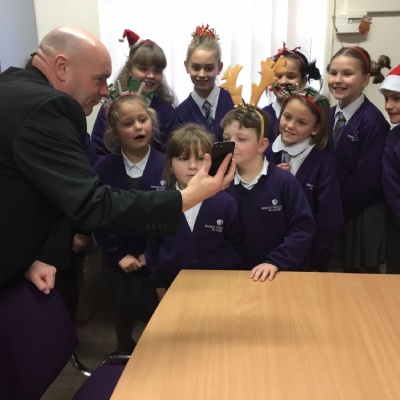 BCA choir perform for GAT Chief Executive Wayne Norrie!
Wednesday 6th December was BCA's Christmas day with a pantomime booked, a festive lunch and a Christmas Fayre after school! Mr Norrie picked the perfect day to come and visit our academy didn't he? The Choir Club were ready and waiting with a few Christmas songs to entertain our guests. Our choir is quite small with only 10 members this term but they really did sing their hearts out. The choir is made up of children from across the academy classes; the youngest member is only 5 and the oldest is 10.
The children have worked very hard over the last few weeks learning traditional songs like Jingle Bells and then more modern ones like Don't cry Mr Snowman. This morning performance came at the perfect time as the pupils were due to perform at the opening of the BCA annual Christmas Fayre after school!
Mr Norrie said he really enjoyed the performance and even 'tweeted' about us on Twitter there and then! Mrs Metcalfe was really proud of all the singers! Well Done Choir Club!