Advent Assembly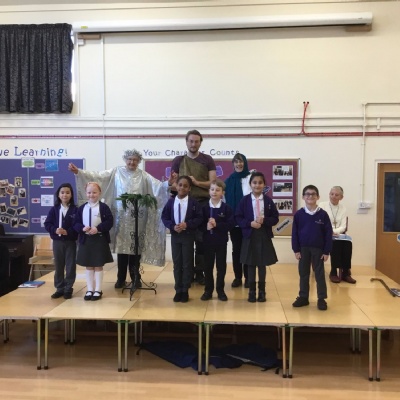 Our friends from St Mary's Church came to share an advent assembly.
The whole academy learnt all about the Christan festival of Advent this week during assembly. A group of story tellers from St Mary's Church came to share their stories. Advent is the period of four Sundays and weeks before Christmas. Children often count the days until Christmas day with an advent calendar.
"Advent is observed in many Christian churches as a time of expectant waiting and preparation for the celebration of the Nativity of Jesus at Christmas. The term is a version of the Latin word meaning "coming"."
Our special visitors brought with them an advent ring from their church and explained the candles that are placed on each section and what they represented. Three were purple; the traditional colour of advent and one was pink! That candle represented Mary. The middle canlde was white and will be lit on Christmas Eve. This white candle represents Jesus who is believed to be the light of the world.
Year 3 enjoyed staying behind after assembly to meet our guests and had their photo taken!