What can you hear? What can you see?

Year 1 have written some lovely senses poems to compliment their seaside theme!
This week in class, year one have been working hard to write their own seaside poems! To start the week the children used their five senses. This helped them to discover what they might be able to; see, hear, feel, touch and taste at the seaside.As a class we played games to help us with our memory.
In pairs children put a blindfold on and tried to guess what they could feel in the sand. It was fantastic to watch the children explore and share ideas. This activity also helped to contribute to our whole school learning skill of 'speaking & listening' this half term.
Year 1, I am so proud of your mature and positive attitude towards your learning as we approach the end of the term. Keep it up for the final 5 weeks!
Take a look at some of our wonderful writing, a super end to our week.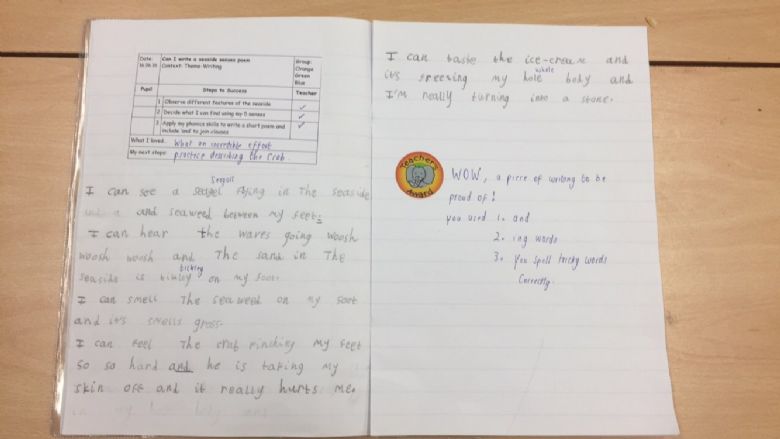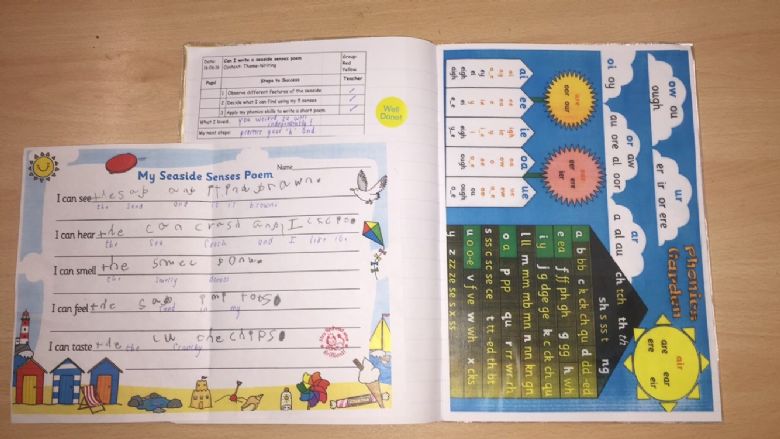 Here are some of the fantastic sentences the children used in their writing;
Jeveria, " I can feel the soft, golden sand between my toes and it tickles me."
Olivia " I can smell the delicious donuts right up my nose and I like it."
Tulisa " I can see the blue waves and they are massive!"
Mateusz " I can hear the noisy seagulls flying around the beach and they are so loud!"
Olly " I can touch the soft sand with my hands, and it sticks to my fingers."