Super Seaside Trip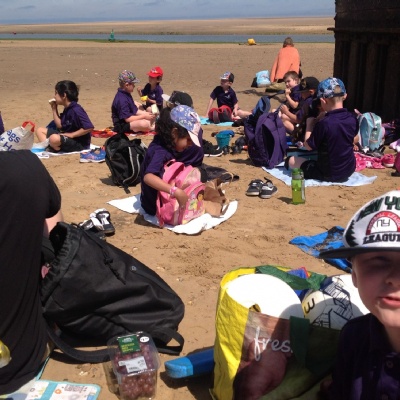 Year 2 visited Wells Next the Sea
On Tuesday year 2 had a fantastic day on the beach at Wells Next the Sea.
After a longer than expected coach journey we arrived at the coast all eager for the day ahead. Although a bit breezy when we arrived the sun was shining and we found a sheltered spot to sit in. The children quickly got their towels out and sat down to enjoy their pack lunches. They were very careful to make sure that the seagulls didn't swoop down and grab their sandwiches! (This is what happened in the story book, The Lighthouse Keepers Lunch which we have been working on). When they had finished they eagerly set about building sandcastles, making rock pools, exploring the shallow pools, discovering crabs, playing football and collecting shells and pebbles. On top of all this we also saw some seals basking in the sun on the other side of the estuary.
All the children were engrossed in the activities and had a super time. Throughout the day it was great to hear the children relating the things they were doing and the objects they saw to the learning we have done in the classroom.
This is what some of the children had to say
It was a great trip. I was busy all day Soroush
I learnt how to build sandcastles David
The beach was amazing. I used the wet sand to build a sandcastle. It fell down if I used the dry sand. Emilas