Healthy Eating Trail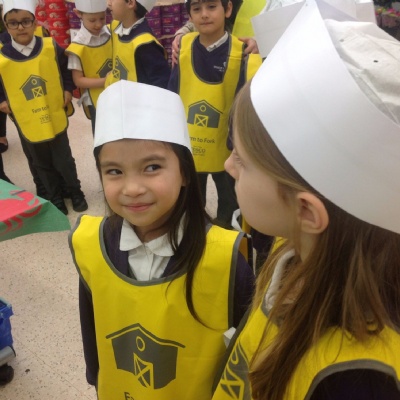 As part of our work on healthy eating Year 2 visited Tesco at Hampton
Year 2 had a fantastic time at Tesco on the Farm to Fork, Healthy Eating Trail.
After getting off the coach we walked into the shopping centre amidst alot of oohs and aahs, about the size of the shop. We met Charlotte from Tesco at the entrance who made sure everyone was wearing a bright yellow jacket and hat. Some of the children weren't too sure about wearing the hat!
We then went to the fruit and veg section and looked at several different fruits and learnt some new ones. We handled and smelt the fruit and then shook the coconuts to hear the milk inside. In our groups we were then sent off to find fruit and vegetables for each colour of the rainbow. Charlotte told us about how much fruit and veg we should eat everyday.
After this we visited the fish counter , which the children found quite smelly, but were engrossed when the assisstant picked up a fish to show the teeth. The cheese counter was a favourite place to visit as the children got to taste different cheeses.
After a tour of the bakery and a doughnut each we quickly visited the freezers, fridges and loading area outside.
The children were engaged all the time and loved answering questions about fruit and veg which linked into our work covered in school.