Roman day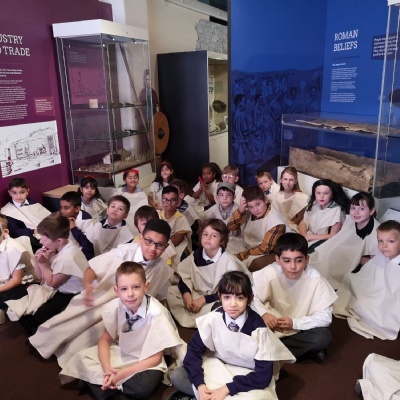 Year 4 entered the museum as slaves for the Romans who had taken over Britain, but left as Roman citizens.
So the Romans have invaded Britain, Year 4 were captured and sold as slaves. As the slaves entered the building they had to change into their tunics. All slaves must wear these so the General knows who they were.
First, they learnt the rules to slavery. They found out they would not be getting paid and they did not have no a choice of jobs or Generals. They were now his property. No complaining, you could be killed for that. However, if they worked are enough they could become Roman citizens. They learnt why the Roman had invaded. Peterborough had clay, Iron, salt and fertile land, perfect for growing crops.
The first job on the list, food prep. Children were split into groups to find the ingredients for the cook. On the menu: oysters, roasted trout, stuffed door mice and a nut tart. Cook was so pleased that they found all the fresh ingredients and even managed to get the correct change from the market.
The next order of business was to repair the pots and jugs. Children had to create clay faces for the broken jug handles. They were under strict orders to make sure each face was different.
Lastly, they learnt all about what it would take to become a Roman soldier. Did you know:
No girls were allowed to join
Men were not allowed to be married
You couldn't join if you were left handed
the Roman army only selected the best, you had to be physically fit. The soldiers would march at least 25 miles a day.
After all this hard work the children were set free and were allowed to go back to school. Miss Greaves was very grateful that they all kept their heads and that she could take the full class back. Well done Year 4.