We are Superheroes!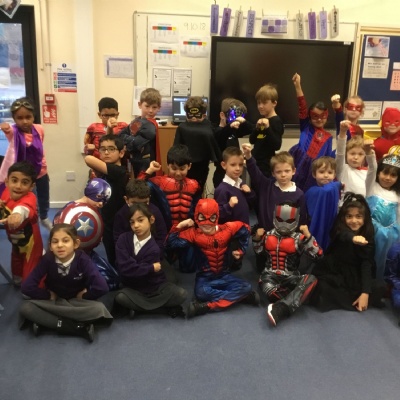 Year 3 had a fantastic superhero graduation.
Year 3 had the exciting opportunity to take part in the 6 week 'how to be a superhero' project delivered by Kamal Hyman.
Each week the children focussed on a particular theme; bravery, kindness, my super power, focus, communication and resilience. They had a range of challenging and inspiring missions to complete based around these themes. The children were enthusiastic and curious about each theme and were focussed on their missions. Overall, they have learnt that you need a specific set of values in order to accomplish success in life!
To complete the project, the children took part in a superhero graduation where they each received a certificate for all their hard work over the past 6 weeks.
Here is what some children had to say about the training.
'My favourite week was bravery as when we went swimming I felt nervous but the other children reminded me to be brave like a superhero and I was able to swim across the pool.' Ayana.
'I liked the focus week. Before I was not that focussed at school but now I have learnt ways to stay focussed and it has helped my learning.' Tyrese.
'Resilience has helped me because when I went swimming I kept saying I couldn't do it. All my friends told me I could and to keep trying so I did and then I could swim.' Jaylen.
Take a look at our photo album to see all the children graduate. That is all from year 3, all that is left to say is...Peace!