Intervention Offer
"Intervention strategies and staff deployment have a positive impact on these pupils so that they now make better progress from their various starting points." Ofsted, 2016
Rationale
In order to be inclusive and raise standards of achievement, we recognise the need to support and boost pupils who require additional educational experiences in order to achieve, or make progress towards, the age related standard for their year group. In addition to this there are many pupils who require special needs and or disability support in order to develop and make progress. Further to this there are some pupils who require emotional support whilst they are at school.
In response to these needs, we have invested time, staff and resources into our intervention 'offer' to meet this wide range of needs.
"The school now gives effective support to all groups of pupils. Additional teachers, learning mentors and teaching assistants effectively support all pupils, including disabled pupils and those who have special educational needs, disadvantaged pupils, ethnic minority pupils and those who speak English as an additional language. This closer attention is beginning to fill in the gaps in pupils' basic skills, which is building up pupils' self-confidence and improving progress." January, 2016
Our key priorities for 2019/20
To Improve the quality of teaching, learning and assessment across Key Stage 1 and Key Stage 2 to at least good and so raise standards and accelerate pupils' progress in reading, writing and mathematics by;
using assessment information to provide challenging activities so that teachers eliminate the gaps in pupils' basic skills swiftly."
Identification of pupils
All class teachers are responsible for supporting all the differentiated needs of the pupils in their class and each teacher has identified pupils in reading, writing and maths that require intervention to make accelerated progress. Each teacher is encouraged to refer pupils with additional needs to the SENDCo and any child with emotional/pastoral needs to our learning mentors where we triangulate and provide intervention based on need and priority.
We take into account: assessment information, baseline assessments, special needs assessments, staff knowledge and experiences and referrals from outside agencies. Once this information has been collated and analysed, we hold pupil progress meetings and, in conjunction with senior leaders, pupils are identified for additional intervention.
Pupils from all key identification groups are included in intervention programmes. We closely track and monitor the progress of pupils by gender, pupils who are eligibles for pupil premium, pupils with special needs and disabilities and/or pupils with English as an additional language.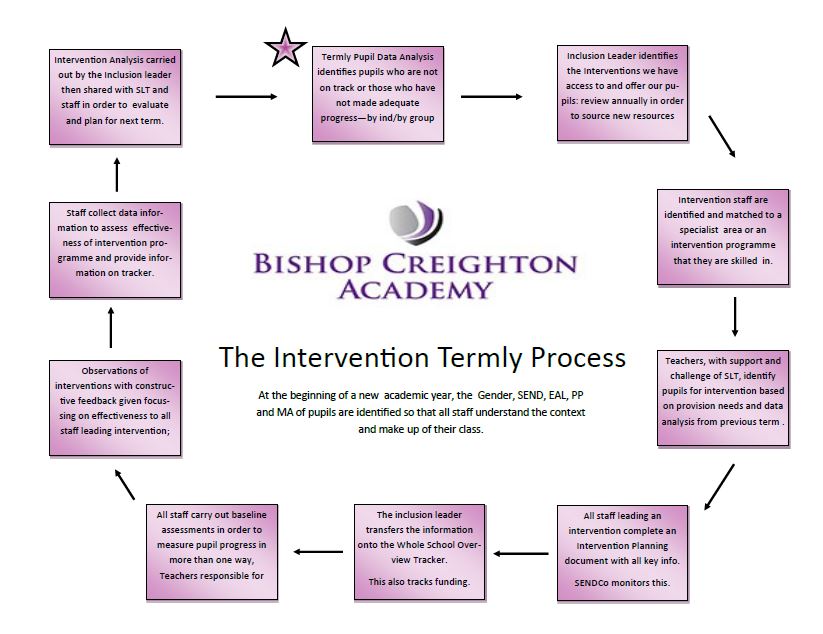 Early Years Key Interventions
During the Autumn term, we carry out EYFS baseline assessments. Due to the high numbers of pupils entering our acacemy with English as an additional language and delayed language development, we also screen all pupils using the 'Silvershoe' Speech and Language assessment. After the first term of good quality first teaching we identify pupils for future language support.
Key Stage One Interventions
We acknowledge that the gap between achievement for all pupils and disadvantaged pupils in 2017 at the end of KS1 was broadly 10%. In 2018, our interventions are targetted at eliminating this gap.
In response to the EYFS 'Silvershoe' assessments and support carried out last year, we identify pupils at the beginning of Year One who still require language support via a preposition programme and language kit. As Year 2 pupils enter this important year we also ensure the children who have the potential to each the expected standard by the end of the year are appropraiately supported via a series of specific interventions.
Click here to view our current KS1 teaching support interventions
KS2 Interventions
To ensure interventions are effective and have the maximum impact, teaching assisatnts across Year Three to Five have been identified by personal interests or with skills within a particular subject to lead programmes of intervention . This approach is enabling us to effectively develop specialist teaching assistants. For Example, a teaching assistant in Year 4 is trained to deliver the Project X Code reading programme so will leave the classroom base during the afternoons and deliver to 3 groups of Year 2, 3 and 4 pupils.
Click here to view our current KS2 teaching support interventions
Pupil Progress
All pupils involved in interventions have their attainment in reading, writing and maths tracked as per the normal assessment procedures. We count steps within bands to show progress; 2 steps per term is expected so for many of the pupils having booster interventions are required to make accelerated progress of >3 steps.
We also assess pupils in other ways in order to capture specific, and possibly smaller step, progress. For example, our Learning Mentor baseline scores for our pastoral interventions or in our boys motivational group run by YDP we conducted an emotional literacy questionnaire. We will also use reading ages and or standardised scores to show progress for reading or spelling.
Intervention Staff
Staff at all levels are involved in intervention.
The principal, who is also the assessment lead for the academy, tracks progress and achievement providing; key information, support and challenge for staff
The SENDCo supports all staff with the overall process of identification of and then the overseeing, monitoring and evaluation of inclusion and intervention
The Senior Leadership Team monitors and provides support and challenge to monitor effectiveness of learning through a range of monitoring activities
The class teachers identify pupils from data analysis and can carry out specific intervention support in addition to quality first teaching
A designated experienced teacher carries out intervention support for the more able including disadvantaged pupils
Our learning mentors carry out targeted pastoral and learning intervention support for most vulnerable pupils
A learning assistant with cover supervision responsibilities (with aspirations to teach) carries out specific intervention support
Our learning and teaching assistants carry out intervention support linked to their year group or specialism
Youth Dreams Project coaches provide sport and motivational support intervention programmes
An outdoor learning support specialist provides pastoral intervention during Autumn 1 and the Summer term
Reading buddy students from other settings and adult volunteers support reading practice
Monitoring and Evaluation
All interventions are recorded in a central record; the Intervention Tracker is held by the SENDCo but contributed to by all staff
All interventions are planned using the academy planning form
All interventions have daily evaluations returned to class teachers and SENDCo
All interventions are observed as part of the normal lesson observation schedule, notes are made and a checklist used to identify key areas and recorded, shared with SLT via lessons learned to identify trends and development points
All interventions are evaluated in terms of progress data and comparing baseline assessments that have been selected for each programme and this is recorded on the Tracker this includes financial evaluations
The SENDCo writes an Intervention Analysis Summary at the end of every term in order to inform the academy staff and Trust the impact of our intervention work each term.